Rival States 2017
Aluminium, steel, brass, sterling silver, powdercoating
Photography by Craig Arnold
Juncture rings 2015
3D Printed and Cast Sterling Silver
An ongoing investigation of line and how it intersects, these rings were presented as part of Generate 2016 at JamFactory. Originally made in wax and cast, these rings have been CAD drawn and 3D printed to achieve crisp lines and angles.
Available for purchase through JamFactory (Adelaide and Online).
Containment 2016
Lathe Turned Aluminium, Anodised
I am intrigued and fascinated by aluminium and the way it acts when it's molten; it has been an ongoing obsession for a few years. This series emerged from my desire to control this process and has manifested in neckpieces that enclose rough landscapes within smooth machined surfaces.
Available online soon. For any enquires, please contact em.field92@gmail.com
Faisua (Giant Clam) Ring
Sterling Silver
I have always had an obsession with the ocean - my twelve year old self wanted to be a marine biologist. Though my career path has gone in a different direction, my love for the beauty that exists in the ocean and our coral reefs has not changed.
Rings and matching studs are available for purchase through JamFactory (Adelaide).
Available online soon!
Custom sizes can be made to order - please email em.field92@gmail.com
Photography by Dylan Esguerra
2016
stainless steel, wooden handle
A stamp for some experiments by glass blower Laure Fradin - to see some of her (amazing) work, head here: https://www.laurefradin.com/
Stitch Series 2015
Open Cretan, Blanket and Bullion
Blackened sterling silver
 
One-off exhibition pieces created for Zu Design's 2015 SALA show whose theme was "Thread."
Available for purchase through Zu Design.
Ring Project
This project was the result of a workshop at The JamFactory with artists in residence, Guy Keulemans and Kyoko Hashimoto that took place in April, 2015.
"Interested in the material relationships of commitment rings, Emma proposes a system in which the woman's ring is cut from the man's ring, and are both cut from the same blank. The irregular line of the saw mark binds the two rings together conceptually and, when it's rough surface rubs against the skin, reminds of the commitment to marriage."
Text by Guy Keulemans
See Guy Keulemans' website for a look at the other associates' designs.

Custom ring design is available, please visit the contact page here to send an enquiry.
Finite series
sterling silver, bronze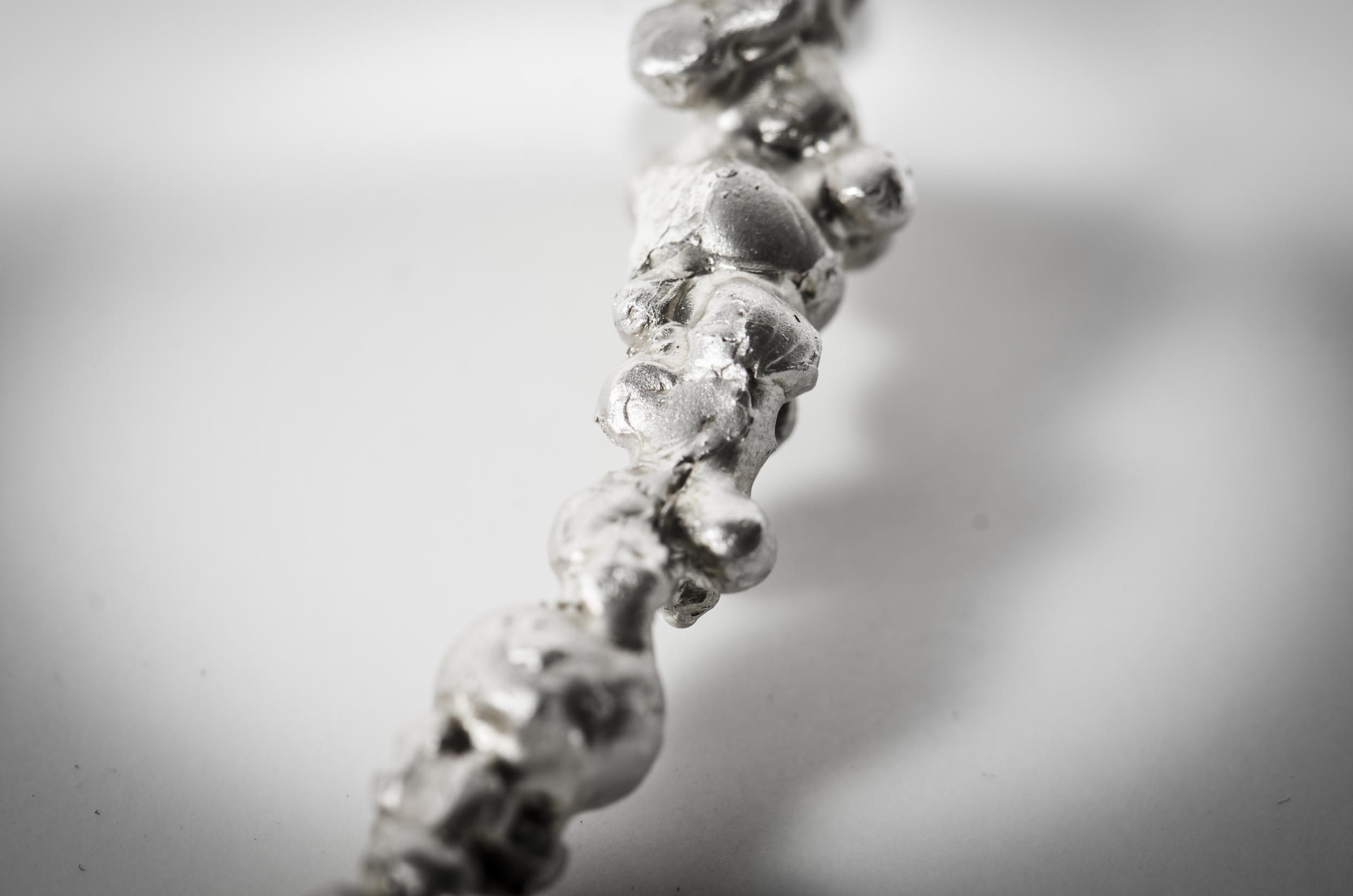 Excerpt from exhibition statement for Fluid Moments (2014):
To read full statement and see other pieces from the exhibition, click here
bronze, various sizes
These particular pieces are designed to be customized into brooches or necklaces, the wearer finishing the design and making it their own
Photography by Dylan Esguerra
2016
Postcard holder, copper
Zoe Grigoris and I designed and created this postcard holder for Sean's Kitchen at Adelaide Casino at the beginning of 2016.
Handmade from copper, it will develop a natural patina over time.
Pop in to see it hanging in the entrance to the restaurant!
Photography by Zoe Grigoris, edited by Emma Field.
Life noise/Death silence, 2013
aluminium
Freud believed that we have two basic instincts: Eros, the life drive and the death drive. He insists that neither one of these instincts is less essential then the other and that the phenomena of life arises from the concurrent or mutually opposing action of both.
Eros and the death drive are not opposites; one is simply not the other. Neither is one 'good' or the other 'bad.' They stimulate and refresh each other in a continuous feedback loop of interplay and interaction. My aim was to investigate these complex, deeply seeded instincts which we have been continuously (if unconsciously) trying to satisfy and balance since birth.